MUFON Case # 130602 occurred on April 26, 2023 at 9 AM over the city of Moncton, New Brunswick, Canada. It was closed as "Insufficient Data" by Canadian Chief Investigator Linda Rafuse when the witness did not respond for an interview.
The witness did draw a pencil sketch of what they saw and provided a short narrative as follows:
"Travelling east on Killam Drive in Moncton NB, I was near the overpass for Wheeler Blvd in my car. I am not exactly sure what I spotted in the sky above the coliseum, cloud cover was low. Object was all white with two windows that I could see, at first, I thought a plane but it was far too low in the sky and was not moving. I continued watching as I approached the coliseum parking lot, the object eventually faded out of site or into the clouds by the time I approached Millenium Drive.  I would estimate it was 500 ft above the ground, approximately 70 ft in width, appeared to have wings at first glance"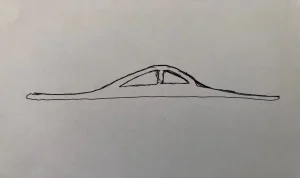 The witness sketch
The interesting thing about his sketch and narrative back in April is that it appears eerily similar to the new American stealth fighter jet called the B-21 Raider. Built by Northrop Grumman Corporation, various news outlets announced that the top-secret fighter had taken its maiden flight on November 10, 2023. It was rolled out of Air Force Plant #42 in Palmdale, California. Video and photos show a dark grey plane that is a smaller version of the B-2 launched in 1989.