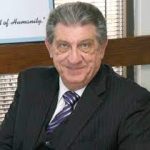 David started his entrepreneurial career at about the age of 8 shining shoes in the bars and streets of his home town. At about the age of 10 or 11 he read Project Blue Book" and many other early "Flying Saucer books".
His adult career started in a laboratory, working on the development team that produced such products as Behold Furniture Polish, Windex and Endust. However, being an entrepreneur by nature he went on to establish and run a number of businesses among which was The MacDonald Defense Company, which became the largest independent security firm in the region. Additionally he owned a manufacturing firm which produced an array of wireless microphones, listening devices and other clandestine gizmos. He owned a book store and a photo studio specializing in model portfolios and underwater photography.
David served eight years as a County Peace Officer in Kentucky. In 1991 Dave founded Flamingo Air and it developed into a full time Air Carrier operation. He and his wife Sharon McGee have further developed Flamingo Air Academy which is now global in scope and Cincinnati's premier Flight and Airline Dispatch school. Dave resides with his wife, Sharon, at their home in Northern Kentucky.
Jessica is the CEO and Founder of A10 Associates and has over a decade of unique experience working with local, state, federal, and international governments. Jess runs the firm's overall operations and involves herself in all divisions. She additionally leads the firm's federal practice group. Before launching A10 Associates, Jess worked in the George W. Bush White House. She previously served as the Director of the U.S. Chamber of Commerce in Vietnam and Director of the Asia Pacific Council of American Chambers, helping U.S. companies across 25 different Asian cities shape policies and coordinate lobbying efforts to promote American exports. Since moving back to Massachusetts, Jess maintains strong relationships with the Massachusetts Congressional Delegation. Jess is also active with both the Democratic Congressional Campaign Committee and the National Republican Congressional Committee.   
Jess now calls Massachusetts home, where she maintains strong relationships in local politics.  She has worked in the tolling and MaaS industry for almost 5 years, beginning her work with A-to-Be (formerly Brisa Innovation) and now represents half a dozen clients throughout the industry. She also represents twenty-five clients nationwide for various work, including major fortune five hundred businesses like Parsons and Blink Charging.   
Jess received a bachelor's degree in Economics and Political Science from DePauw University in Indiana. She holds an MBA from Hult International Business School and a financial modeling certificate from Indiana University's Kelley School of Business.
Debbie Ziegelmeyer joined MUFON in 2000 and became a Field Investigator shorty after. She is currently a MUFON Star Team Investigator, Missouri State Director, on the MUFON Business Board of Directors, a MUFON MARRS team member, co-founder of the MUFON Dive Team, and the MUFON Functional Director of Underwater Research and Recovery. She has over 1200 completed UFO investigations, with over 875 of them being MUFON sighting reports.
Debbie has been a Roswell 1947 crash investigator for over 25 years and is a member of Ted Phillips's T.P.R.C. Team. In 2017 she was awarded both the "Roswell Incident Excellence Award" by the Roswell Daily Record, and MUFON "Field Investigator of the Year". Debbie's book "The Alien Colonization of Earth's Waterways" which was released in September 2021, is A Reference Guide to UFO-USO Water Related Activity.
She and her husband Wayne currently live in southeast Missouri and own and manage Largo Properties, LLC. and Custom RV and Boat Storage. Debbie is also a PADI Scuba Instructor and owner of Missouri Scuba Diving, LLC.
Robert has had a curiosity about space, aeronautics and UFOs all his life. From launching rockets as a boy to working as an intern at NASA during college, Robert has only continued to increase his knowledge of conventional space vehicles as well as unconventional UFOs. His degrees in physics and earth science paved the way for a career at the US Patent Office where he is a Physics Examiner in Aerospace Technology.
Robert has lectured at conferences throughout the US and contributed writing to numerous UFO projects and titles, especially for the Fund for UFO Research (FUFOR). Robert is frequently seen turning up on the Discovery or History channels in various productions. His aggressive debating style on programs such as Larry King Live has won him accolades from many in the field. He has served as Secretary-Treasurer of both FUFOR (since 1986) and the UFO Research Coalition (URC) since 1997.
Robert has been on the Board of MUFON since 2004. Rob currently resides in Virginia with his wife, Susan.
John came to MUFON via the Federal Government where, after earning a Bachelor of Science degree in Engineering Science, John worked in the civilian nuclear sector for 42 years, which included 25 years at the U.S. Nuclear Regulatory Commission (NRC).
John's proficiency at improving operational effectiveness and organizational efficiency led him to advising heads of local, national and international governmental organizations on best practices in this area. This included representing the United States at the International Atomic Energy Agency in Vienna, Austria. John received the NRC's Meritorious Service Award for his career-long accomplishments related to his "unique insights into operational effectiveness andefficiency."
John and his wife Chris celebrated 40 years of marriage in 2022 and live in Rockville, Maryland.
John is life-long "experiencer" with vivid memories of a broad range of events and interactions.
Richard has been with MUFON for nearly 15 years and presently serves as the State Director for Wyoming. He has been a practicing attorney for more than 26 years and possesses a Juris Doctorate and a Bachelor of Science degree in Molecular Biology. He wrote for Law Review and published his first novel in 2016. He presently serves as the City Attorney for the City of Rock Springs Wyoming.
Prior to obtaining his law degree, Richard worked as a research assistant and microbiologist in numerous research laboratories. He has conducted research in molecular genetics, molecular virology, atmospheric and soil microbiology, and participated in a study of the effects of anti-cancer drugs called "anthracyclines" on cardiac tissue for the United States Department of Veteran's Affairs.
Richard has been involved in UFO research since the late '70s. He met renowned abduction researcher, Dr. Leo Sprinkle, in 1980 when, as a young broadcast journalist, he wrote and produced a week-long investigative news special on UFOs. He would eventually become involved in the formation of the Institute for Human-Cosmic Interaction with Dr. Sprinkle, and others, including some who had been involved in parapsychological studies conducted at the Stanford Research Institute which led to the inception of the CIA's remote viewing program. He served as legal counsel to Dr. Steven Greer's Orion Project and was directly involved in the Orion Project's efforts to obtain the Stan Meyer technology, all as detailed in Dr. Greer's documentary film "Sirius". Richard has also provided legal counsel to the MUFON Board of Directors.
Sandy is considered to be a lifelong student. She attended college and earned four Associate of Arts degrees in Administration of Justice, General Studies, Sociology, and Psychology. She earned a Bachelor of Arts Degree in Psychology with minor equivalencies in Sociology and Social Welfare. She eventually earned a Masters of Arts Degree in Rehabilitation Counseling.
Sandy worked with people who had both physical and mental disabilities at a community college and state university for many years. She learned sign language so that she could better serve the needs of those who were hearing impaired. She volunteered to work with many non-profit organizations such as Special Olympics, California and National Wheelchair Games. She was certified to be an official for competition at the wheelchair games.
Her career path went in a different direction when she became employed as a counselor for the California Youth Authority, now called the California Department of Corrections and Rehabilitation. Time elapsed and she became a Parole Agent. She especially loved working with those individuals who were identified as having special education needs and her passion was working with violent offenders.
Sandy has had an interest in UFO's for a significant period of time. She has been attending MUFON functions for over 20 years. She believes that collecting data, researching, scientifically studying this phenomenon, and educating the public about UFO's can be a positive contribution to humanity.
Barbra Sobhani has been an educator for over 20 years. She is currently the State Director for NASA Space Grant in Colorado. Based at University of Colorado Boulder, Barbra works with students on campus as well as across the state on space science and aerospace projects.
Prior to this role, Barbra was an administrator and educator at Red Rocks Community College (RRCC). She was the Director and founder of the Trefny Honors Program, a STEM-focused honors program that strives to attract and retain students from diverse backgrounds and develop their passion for science and solving complex, interdisciplinary problems. Prior to being the Honors Director, she taught physics, astronomy, geology, and integrated science and is an
Associate professor of physics. Barbra holds graduate degrees in geophysics and biology with afocus on conservation.
Barbra believes in the power of experiential and collaborative learning, and she has taught Honors classes and led study abroad experiences that focus on connecting community and conservation. Barbra developed the Intro to Astrobiology course for the Colorado community
college system and taught it for many years. Barbra's involvement in Space Grant began as the Affiliate Director for the Colorado Space Grant Consortium at RRCC and had student teams working on high-altitude balloon projects, a sounding rocket payload, a radio telescope project, robotics, and growing plants in Martian simulated soils. These NASA supported projects are unique in that undergraduate students get the experience of designing and building experiments
that can go to space.
Barbra's history with MUFON goes all the way back to birth, literally, as an infant at the picnic where the idea for then the Midwest UFO Network was conceptualized. John Schuessler, her father, was one of the founding members of MUFON, and it has played an important part in the family history. When the MUFON office was in Denver, Barbra worked on setting up the displays in the office and helped with MUFON events. She has edited the MUFON Symposium Proceedings since 2000 and now serves as Managing Editor and is a frequent contributor of the monthly MUFON Journal.
With a background in physics, geology and more recently, biology, it has been a passion to help students, and now the public, learn to think critically and understand the impact and importance of scientific discovery. The problems facing the world are wicked and complex, so helping the next generation become innovative problem solvers is critical.
THERESA (TERI) LYNGE-KEHL
Theresa comes to us from FL where she serves as Florida State Director. She has over 35 years in business management in the Medical/Dental fields.
She holds a Radiographer degree, has Professional Privileges, and acts as a TV and radio host.
Serving as Director of Membership she uses her varied skill sets and passion to help organize new chapters & expand MUFON's member base as well as assisting MUFON to grow in public awareness, understanding and visibility.