MUFON's core mission is to utilize the Scientific Method to unravel the mystery of the UFO
Phenomenon. This special July 2023 Issue of our monthly magazine is devoted to who we are as an
organization and what we do to unravel the UFO enigma. We are offering it FREE to the public to raise
awareness as to our fundamental mission!
In these pages, which have been published without interruption since 1969, you will learn how we
operate as a non-profit grassroots organization on a day-to-day basis, how we investigate UFOs with
highly trained volunteer investigators, how we maintain a database of 132,000 UFO cases, how we find,
test, and qualify our Field Investigators, and use our state-of-the-art laboratory to analyze trace
evidence among other ventures we undertake with incredible enthusiasm.
In this issue, you will learn about myriad membership benefits you get by joining MUFON, as well as
getting a peek into the future of where the UFO Phenomenon investigations are going and how we are
at the forefront of that endeavor!
In addition to a well-produced monthly Journal with cutting edge articles, we also have a twice monthly
newsletter frequently showcasing a case of interest, a member's only social network called the Observer
Network, and a Map App for free to members and at a price in the Google and Apple App stores for non-
members which lays out our 132,000 cases in a beautiful global format.
This issue will also clue you in on how we bring folks from all walks of life together each year at our
World Symposium which is coming up soon in Covington Kentucky during the week of August 24 th until
the 28 TH !
We also produce the MUFON What's Up radio show on the KGRA Digital Broadcasting Network, produce
our own YouTube programs, provide premium members our own television network programming
called MUFON TV. We even have a movie out currently called "An Accidental Truth!"
If you ever wanted to know Who MUFON is, What MUFON does and Where MUFON is going for the rest
of this century, we ask humbly that you download this special edition of the MUFON July 2023 Journal
we have especially prepared for you. You, the UFO Enthusiast out there looking for an anchor where
they can find the answers to this most perplexing question, will find a home with MUFON, The Mutual
UFO Network.
Please go to this link for your free July 2023 MUFON Journal:
https://mufon.com/free-journal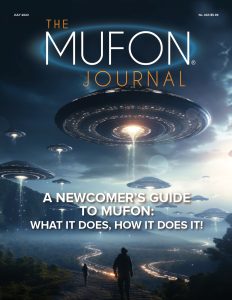 Looking for Radar Analysts!
MUFON is looking for any interested reader, member or not, who is experienced in reading radar
returns generated through Freedom of Information Act requests we send to the government.
Occasionally, MUFON receives a case that requires analysis of radar returns. FOIA requests must be
submitted to the relevant authority within a strict short timeframe.
The data we receive back needs to be translated and turned into a readable format with visualizations
such as graphs and flight paths of an unknown aerial object.  If you have this expertise and would be willing to assist us, please contact Robert Spearing at: