Last updated on May 7th, 2021 at 04:17 pm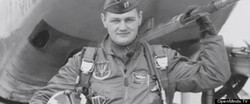 When Air Force Lt. Col. Richard French was an alleged lead investigator of Project Blue Book in the 1950s, his job was to shoot down false reports of UFOs.
Given his job, French never dreamed he'd end up in Newfoundland one day watching what appeared to him to be two extraterrestrials performing repairs on a submerged, unknown circular craft.
---
In Washington, D.C., recently, the 83-year-old retired officer testified at the Citizen Hearing On Disclosure panel of six former members of Congress about his work as a UFO debunker in 1952.
French recounted how the Newfoundland incident unfolded decades ago, in the early 1950s, after two UFOs were seen by many people off the coast of St. John's. French's superiors ordered him to look into the situation.
"They said, 'We have a UFO report and we want you to investigate it,' and that was standard for what I was doing," French told The Huffington Post. "They told me there were two of them involved and that they were deep under the water, after entering the water doing roughly 100 miles an hour.
"There were a lot of people assembled on the wharf, at least 100 standing around just looking in amazement at the water, including several local policemen."