Last updated on May 7th, 2021 at 04:19 pm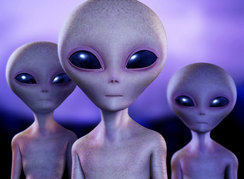 It is conceivable that humans could someday discover aliens. We scour the cosmos looking for their radio signals, and though we're not capable of interstellar space travel, it is remotely possible that we could find what we're looking for right here in our solar system.
Life could theoretically exist on Mars, or on Europa, a moon of Jupiter, which appears to have an underground ocean. It's even possible (though highly unlikely) that these nearby life forms could be sentient. "It is consistent with current human exploration of the solar system that intelligent beings could have evolved in the deep oceans of Europa," said Jacob Haqq-Misra, an astronomer at Pennsylvania State University.
---
Another possibility, Haqq-Misra said, is that "intelligent extraterrestrial beings have traveled from a distant star system and taken up residence in the solar system. They might be living in an underground base on Mars or the moon, or they could be residing in the asteroid belt (or any number of other plausible, albeit unlikely, options)."